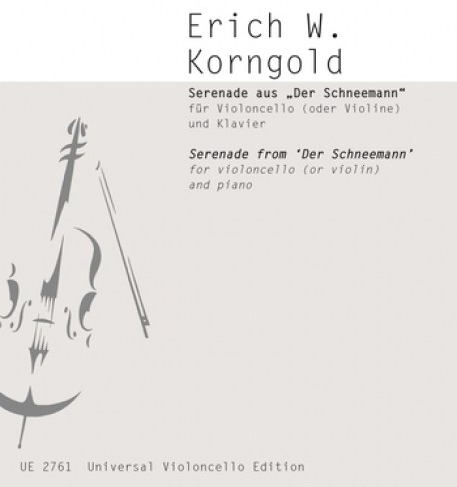 I made a snowman when I was about 11 years old that I was very proud of. My pride stemmed primarily from the fact that I had built it alone. No help from dad or older brother. This was all me.
It was a sight to behold: carrot nose, arms made of freakishly bent tree limbs, three semi-spherical body sections, flecked with bits of grass and dirt from the earth underneath the snow. Okay, it was mostly hideous, but I was 11, so I was pretty pleased with myself.
If I had known that Austrian composer Erich Korngold had written an entire ballet at age 11, I might have been forced to revise my pride level somewhat. His ballet was called "The Snowman", and upon its opening, he was a child prodigy who seemed destined for greatness.
Korngold is mostly remembered now as a pioneer in film scores. His 1938 soundtrack to The Adventures of Robin Hood won an Academy Award, and he cranked out many more during his time in Hollywood. However, it seems like he got tired of film scores. He stopped writing them in 1946, and returned to composing the romantic style of music he had worked on before leaving Austria.
Unfortunately, by the late 1940s that style was no longer popular, and in the years following his death in 1957, critics tended to greet Korngold's work with a bit of a shrug, which I think is pretty sad. Rewind to 1910, when composers like Strauss and Mahler were praising the 12-year-old as the next big thing, and his ballet The Snowman was being performed for the Austrian Emperor…it doesn't seem fair that his career should be looked upon as if it were one of my pathetically deformed snowmen.
What makes this a beautiful song:
1. The tempo is flexible, which gives the music a sense of motion. You can see how his style was so perfectly suited to the newly emerging medium of film.
2. The way the violin climbs and shivers, beginning at 1:40.
3. The final seconds, with the violin way up high, and the piano way down low, like opposite ends of a snowman.
Recommended listening activity:
Digging through a box of things you made as a kid, and picking out something to put on the fridge.