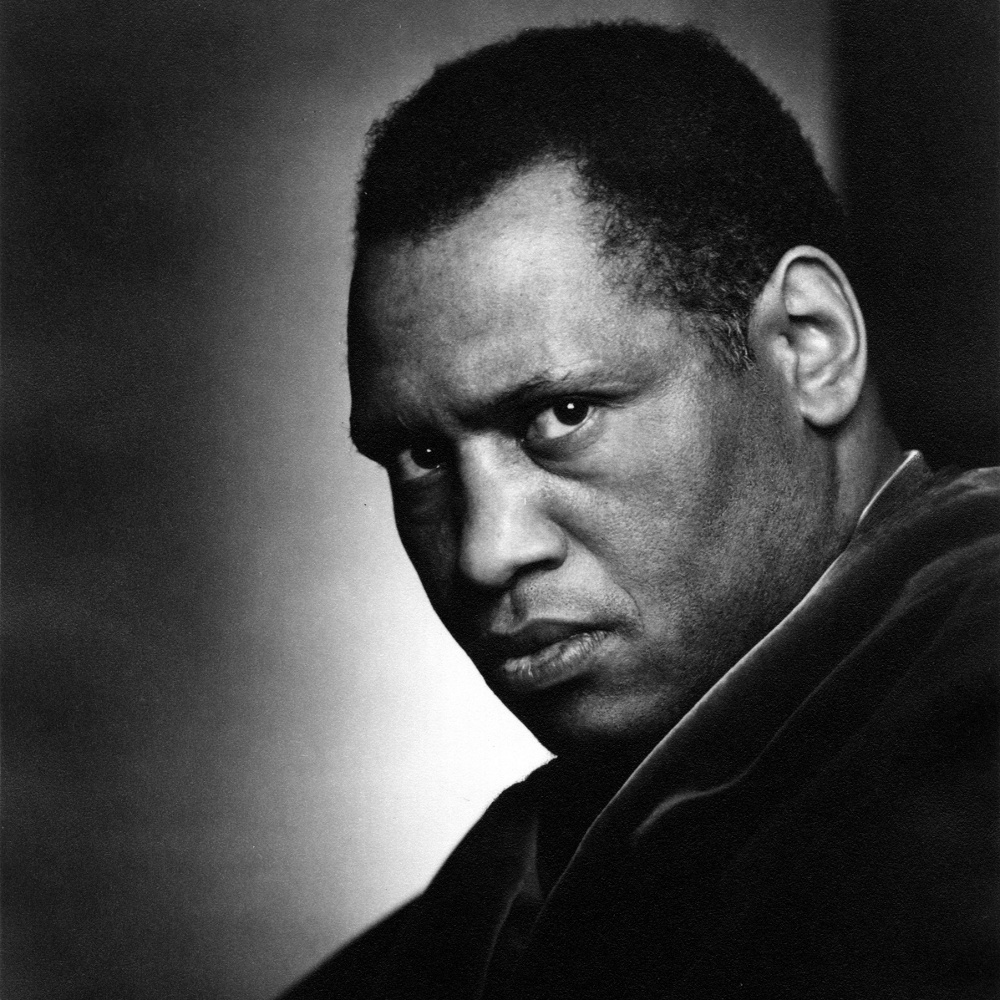 Note: This is a bit of a longer post than usual, so this week I'm providing two songs for the price of one. Or to be more specific, two versions of the same song, as performed by the same artist, two decades apart.
Version 1:

Version 2:

Do you find it difficult to answer the question, "who's your hero?"
It's the kind of question that comes up when you least expect it. You're sitting at some half-hearted team-building session for work, or some other time when it's usually safe to zone out momentarily. And then suddenly you're asked to identify the one person whose life and accomplishments are so admirable that you consider them to be the pinnacle of humanity.
Your mind kicks into high gear. What's the right answer? What's the politically correct answer? What answer will impress the most people without being too obvious?  Well, if you don't have an answer for that potentially awkward question, I'll give you one.
Paul Robeson.
Paul Robeson is your new hero. Here's why:
Academic hero. He was only the third African-American student at Rutgers, and the only one enrolled at the school during his time there. He won public speaking competitions in each of his four years at Rutgers, was elected class valedictorian, and went on to graduate from Columbia University with a law degree.
Sports hero. When he tried out for the Rutgers football team, other players who didn't like the idea of playing with a black man were excessively physical and "accidentally" broke his nose. He made the team anyway and was a first-team All-American in his junior and senior years. Basically, he was the Jackie Robinson of college football before Jackie Robinson was even born.
Theatre hero. Robeson played a season in the NFL before finding his true calling in theatre. He performed this song in "Show Boat", often cited as being the most important American musical ever, and it remains his signature song to this day. Robeson went on to play Othello in the longest-running Shakespearean production in Broadway history.
Civil rights hero. He founded the American Crusade Against Lynching. He campaigned for Major League Baseball to integrate.He starred in Proud Valley, a film that highlighted the plight of Welsh coal miners. In fact, was such a hero in Wales that when he performed there he was allowed to sing their national anthem in English. He's the only person who has ever been officially allowed to do so.
Moral hero. In the 1950s, as McCarthyism reached its absurd peak, some people decided that Robeson was a bit too sympathetic towards the Soviet Union. He refused to say whether or not he was a member of the Communist Party, a decision that got his passport revoked. He could get it back if he agreed to sign something stating that he was not a communist, but he (rightly) argued that his political views should have no bearing on his freedom of movement.
I want to pause here a second. This is a man who, as a performer, depended on his ability to travel. Popular all over the world, he suddenly found himself unable to perform abroad. At the same time, he was blacklisted in the US, which meant nobody would book him for performances at home either. And yet, even as he watched his career evaporate, he refused to sign anything he felt he shouldn't need to sign. Even when the "House Un-American Activities Committee" managed to intimidate Jackie Robinson – Jackie Robinson! – into testifying against Robeson, he refused to sign. Imagine listening as a ground-breaking black athlete, for whom you basically opened the door, raises questions about your morality.
But Robeson didn't fold.
That's why Paul Robeson is your new hero.
What makes this a beautiful song:
1. (Version 1) This version is from the original "Show Boat" recording. Robeson's character sits by the Mississippi and sings his jealousy of the fact that the river doesn't need to worry about injustice; it just keeps rolling along. Reminds me of "Lucky Old Sun".
2. (Version 2) Later in his career, as he turned his attention to various human rights causes, Robeson altered the lyrics, making it a protest song. Its message becomes one of grit and determination rather than despair and powerlessness. Listen carefully and you'll hear that instead of being jealous of the river's easy life, he's cursing its indifference.
3. (Both versions) It doesn't get much better than Paul Robeson's baritone. To say his voice is silky smooth is to give silk way too much credit. And yet, there's an edge to his voice in the later recording that gives a hint of the various people behind the voice: the academic, the public speaker, the activist, the athlete, the actor.
Recommended listening activity:
Setting bigger goals for yourself.